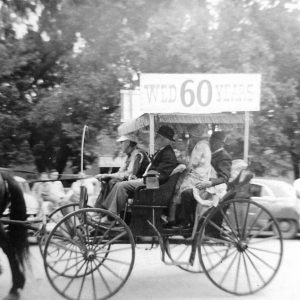 ​The 1908 home at Pioneer Bluffs was the first building project taken on by Henry and Maud Rogler. It was said to be Maud's dream home.
Henry and Maud were married in 1901, and died two months apart in 1972.
Henry Rogler and Maud Sauble fell in love while they were both students at the Kansas Agricultural College (now K-State) in Manhattan, Kansas in the late 1800s. Henry graduated in 1898 and went back to Matfield Green to begin applying what he'd learned about agriculture. These two excerpted letters from the Pioneer Bluffs archive collection were written in late 1900. They seem to indicate that the couple is already engaged, but have not decided on a wedding date. Maud has apparently made it clear that even love will not deter her from completing her degree. In fact, Maud graduated in June of 1901 and married Henry on July 12th, eight months after these letters were written.
Nov. 16 1900
Dearest Maud:
Your letters always portray and reflect your feeling … I long for the time when we can put our heads together and tell each other just what we think and feel.
You said so many nice things to me in your letter, that I can't adequately meet them in a reply but would sooner show appreciation by answering in person.
If it be true you can't hardly study since I visited last, or as you say three months afterwards, perhaps I had better stay away, for you know I said I didn't want our engagement to hinder your studying.
Of course I wouldn't be willing to admit but what there are other things as important as schooling.
Ever your loving Henry
Matfield Green KS
Nov. 20 1900
My Darling Maud–
I have read your last letter a number of times trying to study out your full meaning and determine whether you were more than half in earnest.
The trouble is I believe we want to get each other to express their feeling first, because each of us are afraid that something we wish, or would like to have done, would too greatly discommode or inconvenience the other, and that's why I'm afraid to say half what I feel and desire. I didn't know I was so timid until it came to a test. Another way would be to ask and let you refuse (or accept as you might wish).
You have your mind fully made up to graduate haven't you, and your mother wants you to don't she?
Some way I can't express my self. I ought to be in Manhattan and then I would somehow know what you wanted to do.
You can probably see the trend of my whole letter without any trouble. To be plain do you want to be Mrs. Rogler this coming Xmas or winter?
Your ever loving Henry
Don't answer this letter if you think it out of place.
Old movies from the Rogler home